Now, come on. A stiff upper lip would not get AIG or Washington Mutual sorted out. So why don't we have a sense of humor about it.
New York Magazine's Daily Intel looks at the other side of Wall Street.

"Did anybody else notice that, in all of the endless photographs and clips of disheartened bankers exiting the offices of Merrill Lynch and Lehman Brothers yesterday, a surprising number of them were ladies? And since it wasn't exactly an official workday, and many employees were just told to show up with boxes, lots of them showed up in casual clothes, like ponytails, gym shorts, tank tops, and the like — and they were actually kind of, well, hot? Finance hot, but still."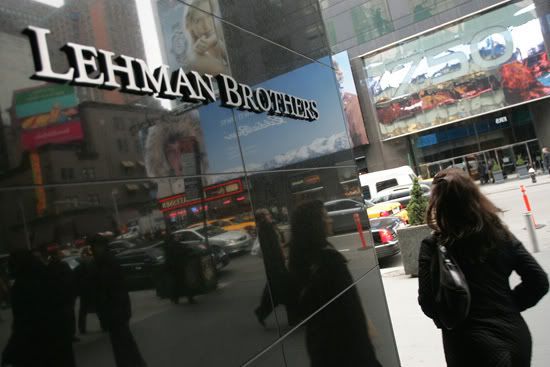 Catch the slideshow
here
. Read the captions. An
Antifits
recommendation. I don't care whether Sarah Palin of the "Walmart mom" pulls me up for sexism.
Hey, mind what you do though. My sister works for Goldman
,