As the world more than acquainted itself with Lehman Brothers Midtown Manhattan headquarters when news of the collapse of the financial giant started streaming in, it was easy to forget that Lehman Brothers had an overseas operation, and one that is more profitable.
The top executives at Lehman Brothers in New York did not.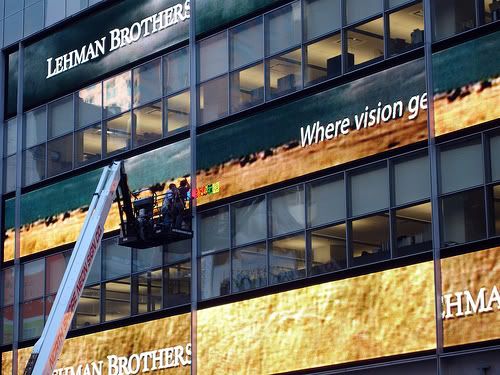 Around 1230 in the morning of 15th September, Lehman announced in a press release that the 158-year-old investment bank would file for bankruptcy protection. In the hours and days leading up to Lehman's collapse and Chapter 11 filing, $8.07 billion was mysteriously transferred from Lehman's London subsidiary at Canary Wharf to its Midtown headquarters in New York. Canary Wharf is where Lehman ran its operations in Europe employing around 4, 000 people.
At the opening of Lehman's new European headquarters in London on 5th April 2004, Gordon Brown, the then Chancellor told Lehman employees, "I would like to pay tribute to the contribution you and your company make to the prosperity of Britain. During its 150 year story, Lehman Brothers has always been an innovator, financing new ideas and inventions before many things even began to realize their potential."
On 20th September 2008, Gordon Brown stated its support to Lehman Europe's claim that Lehman New York return its $8 billion.
The British tabloids called this repatriation of $8 billion to New York as the "betrayal" of London.
Times Online
quoted one executive saying, "We were basically told 'London, you're on your own'." Another E-Mail by an angry executive to Bart McDade, the President of Lehman, quoted by the newspaper read, "Come on guys. Show some respect for the rest of the world who carried your flag and believed in the 'one firm' culture. There is a thing called 'appreciation and class' even after the war is lost." Lehman Europe and its employees in London were literally left in the lurch, under the administration of Price Waterhouse Coopers (PWC) that was called for the dissolution of Lehman Europe.
All this as Lehman New York was raising a toast to Bob Diamond, the President of Barclays, on the orchestration of a $1.75 billion takeover of Lehman's American investment-banking and capital-markets division, securing 10, 000 jobs and $2.5 billion in bonuses for the staff at the New York office.
In the United States, one could have gone oblivious to this. The
New York Times
covered the story as reported by Julia Werdigier of The
International Herald Tribune
in
DealBook
, its daily filing of mergers, acquisitions and other market movers. Not exactly the headlines.
Werdigier explicitly states "the money was moved to New York from London as part of the usual flow of the firm's cash between the two financial centers just before the bank collapsed Monday morning."
Usual flow of money?
Evening Standard
ran a story by David Cohen on this "betrayal" of London. In this story, Robert Daniels, a director at Lehman's Canary Wharf office, explains what this 'usual' flow of money was. On Fridays, Lehman London would transfer billions of dollars to the New York headquarters, and is given a portfolio of assets in return. On Mondays, this trade is reversed in what is a standard inter-bank transfer. But this transaction leading up to Lehman's collapse was different.
"The money was not returned to our bank account from the US and all we were left with was a bunch of useless assets. Nobody can tell us where it has gone. What we do know is that the money disappeared on Friday night and did not come back into our account on Monday morning. That is why the administrators came in on Monday and found no cash and said they probably can't pay our September salaries."
In the story that appeared in the
New York Times
, Werdigier goes on to discusses a beleaguered Gordon Brown and the criticism he faces from within and outside the Labour Party on his handling of the British economy amidst difficult times. Why would Werdigier do that? Is Werdigier implying in a very subtle way that it is just Brown trying to be seen as doing something?
More so, it reports PWC sending a letter to Lehman New York "requesting that the money be returned to London, where it is needed to pay the bank's creditors, employees, bills and some daily expenses."
On 19th September, PWC filed an 83-page motion disputing the $8.2 Billion taken from London.
Was it the
New York Times
and the American media deliberately underplaying this story, or the British sensationalizing it too much?
"It goes beyond who gets paid their September salaries. It could be a huge legal issue, setting Lehman London employees against their New York colleagues. This is billions we're talking about, billions that have been moved overnight out of the UK to the US to the detriment of the British economy" says Daniels.
After Lehman's collapse, much of the financial world continues to undergo an ugly restructuring in the last fortnight. But what hasn't changed is this strange denial and ignorance of the new global reality the American media, at least in this financial crisis, seems to be catering to.
Maybe the holding company is entitled to ring fence bonuses and ensure employment for its preferred employees when it negotiates takeover bids. It could be well within its right to talk about a unified corporate culture, and then leave your overseas divisions with literally empty vending machines and a lack of basic information that borders on complete apathy.
But there is a slight alteration to the narrative now. It is the British financial services provider, Barclays, that has taken over Lehman's profitable American assets. And if ever things go down, they might not have to hesitate to play it dirty.
Lehman: You are on your own, London, Danny Fortson, Times Online- 09/21
Lehmans' $5 Bn 'betrayal' of London, David Cohen, Evening Standard- 09/17
Fury at $2.5 Bn Lehman Bonus, John Waples, Times Online- 09/21
UK's Brown wants Lehman Cash returned, Julia Werdigier, NYTimes- 09/22