Some are not amused by Sarkozy. Rest are vowed.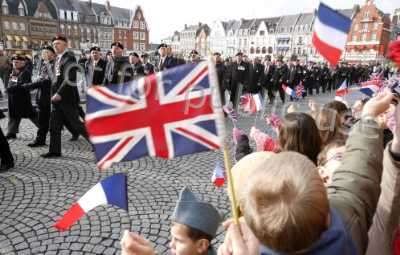 Simon Boggart put it best in the title for his Gaurdian column. Say what you want, but with the audience in front of him, few can beat Nicholas Sarkozy.
The French President was on a state visit to Britain, albeit a short one of 36 hours. And what followed was a lesson on bling and pomposity, as only perfected by the British. You don't want to miss this.
Catch this BBC Snippet
.
It is easy in the past few months not to have taken Sarkozy seriously. I hate to bring up Carla Bruni up again, but few would have given him a shot with his stay at Windsor Castle overlapping with a nude shot of her resurfacing for an auction at Christie's and not that forgiving British paparazzi.
Instead Sarkozy lathered the British with
Sucre à la
Creme
to an extent that the British did not know what to do with this adulation. Sample this.
"How many armadas has your nation defeated? How many battles has it won which everyone thought lost? In the hearts and minds, even of those who fought against it, your nation has stood through its respect of the Other, its tolerance, its way of life, its freedom of spirit which has been forged throughout a long history full of sound and fury."
Read the text
here
he made to the British Law- Makers.
Simon Hoggart writes in his column titled in
The Gaurdian,
" He loves us. He adores us. He reveres us! Listening to Nicolas Sarkozy address Parliament...was like being underneath a torrent of crème Chantilly [whipped cream] sprayed from a high-pressure hose. He actually said 'thank you' for the liberation [of France by the Allies in World War II]! Previous French presidents have implied that events in Normandy were mere skirmishes [,] while the French got on with the job of throwing off the German yoke. But...Sarkozy could not thank us enough."
As much as there is out there that might suggest otherwise, his 36- hours in London just wasn't ostentation of the most blatant kind As Bronwen Maddox, chief- foreign affairs correspondent
put it
,
"Sarkozy will get what he wants from this visit, with speeches in the Commons...and hours of meetings today with Gordon Brown and other ministers. It will relaunch him as a statesman (he hopes), and distract critics from his whirlwind courtship of Bruni, his paralyzed plans for reform of [France's] economy and his party's defeat in local elections a few weeks ago."
He is not stupid, is he? After all, he came in with a mandate for reform in France. That calls for a political brilliance beyond our comprehension.
Amidst all this, what happened to poor old Gordon? Apparently, the British Prime Minister got lost.
The Daily Mail
in a headlines shouted
Ou est Gordon?
And for a dash of humor, please check this
report
which has got loads of pictures from the official state banquet. She is easily one of the most beautiful women in the world.
And damn, with Bruni, like it or not, Sarkozy again walked away with what he wanted.


Someone get me out of New York, if you please.