How does a Hedge Fund make a staggering $ 28 Billion in an economy that has Wall Street orgasming at the prospect of a Fed bailout? How do your managed credit funds grow 590% and 350% respectively? How do you take home a $3- 4 Billion paycheck home?
And all of this in 2007, a year that would not go down in books as year for such numbers.
[Photo Illustration: Everett Bogue; Getty Images/ Reuters]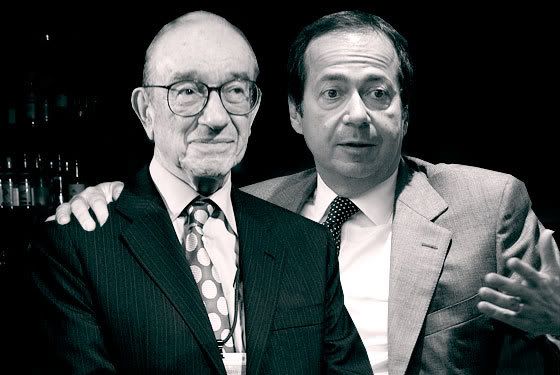 You do. If you are John Paulson. And you have the balls to sell short, while the world plays it long.
Sell short what?
Sub- Prime mortgages
. Go figure that. And well, to be a bit of a downer, he reckons "it still ain't too late" to invest in economic troubles.
As the mainstream turns it's back on Alan Greenspan, Paulson calls him over to his advisory board. Another reason why he made money, and the mainstream didn't.
And he went to New York University.
Paulson acquires an Alan Greenspan [Daily Intel- 1/15/08]
Trader made billions on Sub- Prime [WSJ Online- 1/15/08]