"Come home ASAP." Ken never kept it that concise.
Little did I know I would come home and switch on the TV to a city with blood on its asphalt, holed up and taken hostage. For sixty odd hours in the shock and awe of the unchaste, Bombay would writhe and squat, billowing in smoke as black as the godless sky, and I would watch.
Tom Friedman, columnist for the
New York Times
, when asked about India said, "Take a champagne bottle, shake it for an hour and then take the cork off. You don't want to get in the way of that cork. It is an explosion of fifty years of pent-up aspirations. That is how India feels like."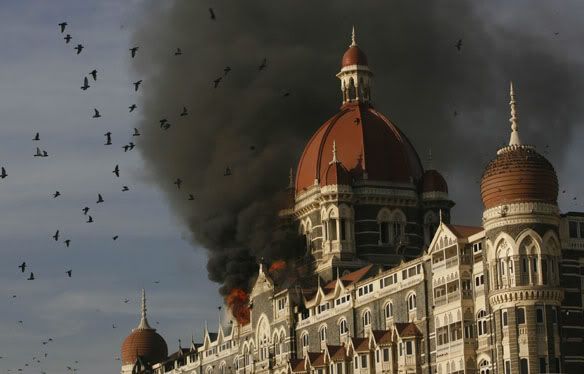 Why bother to come in the way? Just burn it, like those few men of God would do.
And the images were relayed across America this thanksgiving weekend. One terrorist repeatedly insisted on American and British passports, and apparently, let an Italian go. The headlines blurted "Americans targeted."
Incredible India, go fish! Convince an American kid now to spend his summer to intern with Morgan Stanley in Bombay, or wait, try holding on to the $ 13.6 billion American businesses poured into India as direct investment in 2007. And why fly the top executive to Bombay from San Francisco when one can videoconference.
Couple this with the economic crisis of 2008, which many reckon to be the worst since the Great Depression, and you have a country brought down to ground after years of exuberance, rational and sometimes, irrational.
Since the highs of early 2008, the Indian stock indices have collapsed by 60%, as portfolio investors have pulled out $ 12 billion from the capital markets. The Indian Rupee has lost 15% of its value against the United States dollar, and foreign exchange reserves are down to around $ 250 Billion from a record $ 340 billion. Even though the economy grew at a blistering 7.6% this quarter, it is seen flagging considerably compared to the 9% growth of the past three years.
According to Sonal Verma, an economist with Nomura Financial Advisory and Securities "There are increasing signs of non-linear economic effects: vicious negative spirals from falling asset prices, sagging confidence, rising job losses, tightening lending standards and weakening demand, as well as increasing multiplier effects on domestic demand from the slump in exports"
Nomura cut its estimate for growth in 2008/09 to 6.8 percent from 7.2 percent, and expects 2009/10 GDP growth to slow to 5.3 percent from its earlier estimate of 6.9 percent.
Is the Indian story over?
On the eve of India's independence that warm August night in 1947, the first Prime Minister of India, Jawaharlal Nehru, told the nation "long years ago we made a tryst with destiny, and now at the stroke of the midnight hour, when the world sleeps, India will awake to life and freedom. A moment comes, which comes but rarely in history, when we step out from the old to the new, when an age ends, and when the soul of a nation, long suppressed, finds utterance."
But the world would have to wait till 2001 to make its tryst with independent India. Goldman Sachs, the Wall Street investment bank, made India the I in the BRIC and altered our perception of the word "emerging". Danielle Pergament wrote in the
New York Times
, "You may not have heard of BRIC -- the acronym for Brazil, Russia, India, China -- but you've heard its buzz. These emerging powers are where investors are sending capital, architects are rejiggering skylines and cognoscenti are mining for cultural talent."
Cognoscenti in India? The terrorists would have known. Andreas Liveras, the British yachting tycoon, was shot point-blank at the Taj Poolside.
--
The Taj in South Bombay is an iconic 105- year old flagship property of Indian Hotels, the hospitality subsidiary of the Tata Group and the proprietors of the Taj group of hotels. Jamsedji Tata, the founder, commissioned it himself after he was allegedly denied entry to one of the city's grand hotels, Watson's Hotel. It was restricted for "whites only."
Years later in 2006, in what Alison Gregor of the
New York Times
called "A Manhattan hotel deal, with foreign accents," Indian Hotels took management of the Pierre Hotel in New York City from Four Seasons Hotels.
The terrorists probably wouldn't have known that the Taj in South Bombay was built as a tribute to the 16th century Islamic architecture in India.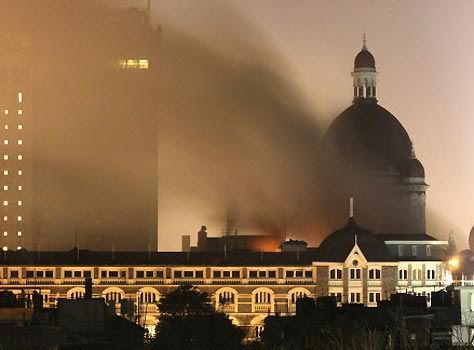 Suhel Seth, managing partner of Counselage India, called India the "proverbial bus in today's world." A bus that "no one knows where it is going, no one knows whether there is space on it for them – but no one wants to miss that bus."
Keener than most on this bus ride was George W. Bush, who in the most strategic initiative of his second term, signed the India- US nuclear deal onto law on October 4th. This allowed India access to nuclear fuel and technology for its civilian nuclear program, without giving up its nuclear weapons. Throughout the passage of the Hyde Act within Washington and international diplomatic circles, the United States argued for India's status as an ally and a forthcoming economic superpower. Ambivalent countries like New Zealand and Norway reportedly got the call personally from Condoleezza Rice.
New York Times
in an editorial on September 9th lambasted the administration for the nuclear agreement that was a "bad idea from the start. They extracted no promise from India to stop producing bomb-making material. No promise not to expand its arsenal. And no promise not to resume nuclear testing."
But according to Fareed Zakaria, it is going to "alter the strategic landscape, bringing India firmly and irrevocably onto the world stage as a major player, normalizing its furtive nuclear status and anchoring its partnership with the United States. With China rising and Europe and Japan declining, India is seen as a natural partner."
Manmohan Singh, the Indian Prime Minister did not mince words at India's exultation. "Mr. President, people of India deeply, deeply love you," he gushed. It was a coup of sorts for India's foreign policy, but more importantly an affirmation to itself that it had finally gotten up from a slumber party that had lasted way too long.
An affirmation that yes, India could build tall buildings, write the next generation of software, have its own breed of privatized financial institutions and global chic, raise money in Bombay like they do in New York and London, show long lingering kisses in movies, have jobs so that kids can graduate out of college and not want to take the first flight out.
--
But not everybody got on this "proverbial bus". Some reconciled with their fate. Some promised to try harder. But some did not want to be on it. Heck, a few could not see anybody else on it. Such was their fervent antagonism that a hospital for women and children wasn't spared. In the Indian edition of 9/11, 188 were killed, and more than 293 injured.
--
Amitav Ghosh, author of the
Sea of Poppies
and a visiting professor of literature at Harvard University wrote in his op-ed in the
New York Times
, "For if there is any one lesson to be learned from the wave of terrorist attacks that has convulsed the globe over the last decade it is this: Defeat or victory is not determined by the success of the strike itself; it is determined by the response."
Hence, whether the Indian story remains intact, is going to come down to how the Indian government reacts. An institutional investor from Greenwich, Ct. needs to read the right news coming out of the country to be confident of putting his money that India's burgeoning economy cannot do without. He needs to get up in the morning to his
Wall Street Journal
telling him that India is undertaking major police reforms, making its borders safer or working towards a more inclusive society. Terrorism invokes sympathy, but an apathetic and disconcerted response to it disgusts.
India Brand Equity Foundation (IBEF) is a partnership of the Ministry of Commerce in India and the Confederation of Indian Industry (CII), the top industrial lobby is New Delhi. It seeks to build positive economic perceptions of India globally. At the
World Economic Forum
in Davos in 2006, it splurged $ 5 million to promote itself as the next economic superstar in an extraordinary charm offensive. Mark Landler in the
New York Times
wrote "there were few places one could go, on this first day of the World Economic Forum's annual meeting here, without seeing, hearing, drinking, or tasting something Indian."
Even they could not have dreamt to garner a fraction of the eyeballs the events of 26/11 have. India will do well to recall that the same press that told the world of its prowess now has its eyes firmly on it. "If India can react with dispassionate but determined resolve, then 2008 may yet be remembered as a moment when the tide turned. A crisis is also an opportunity," continued Ghosh. Sounds perverse, but here's a shot at showcasing India's character. While the eyes remain glued to the TV Sets.
In her November 29th column, Dean Singleton, the chairman of the
Associated Press
tells Maureen Dowd, "If you need to offshore it, offshore it. In today's world, whether your desk is down the hall or around the world, from a computer standpoint, it doesn't matter." Apparently, the promoters of
Pasadena Now
, a Pasadena community newspaper, outsource local news to "Indians, who are writing about everything, a 1000 words for $ 7.50, from the Pasadena Christmas tree-lighting ceremony to kitchen remodeling to city debates about eliminating plastic shopping bags."
Macpherson, the promoter of
Pasadena Now
, is the scourge of American journalism, and Dowd calls this the "General Motors" moment for the newspaper industry. The story is itself a trifle trite. Macpherson has been on it for more than a year now, and with the elections over, outsourcing is an exhortation a month too late. This is her first column since the attacks in India, and it has nothing to do with them. Though it has everything to do with India.
As the world looked elsewhere, India did the dirty work of the developed world, and sneaked in literally through the back-office. At one-tenth the cost. In fledging suburbs of its cities, young men and women learnt to tell between Kansas and Kentucky, and some learnt the hard way that in the world of the
Yankees
, there is a quiet
Mets
fan somewhere too. Better stick to the
Knicks
when selling a credit card to someone in New York. But they didn't just sell them in New York, nor was a credit card the only thing they would sell. India became indispensable to the West, as the world underwent the greatest economic boom in recent history. Someone just had to be on the other line.
Indians soon learnt the possibility of the human life, and means to it in the new flat world. What took years in the West was transplanted to this exciting new playground. While some ran away from it, some denied it, and some just did not see it coming, India crashed headlong in this level-playing field. The terrorists don't like this. But let them know that India remains open to Pasadena Christmas tree-lighting. These bastards won't win.
Or as Suketu Mehta, Professor of Journalism at the
New York University
, in his op-ed in the
New York Times
puts, "The best answer to the terrorists is to dream bigger, make even more money, and visit Bombay more than ever. Make a killing not in God's name but in the stock market, and then turn up the forbidden music and dance; work hard and party harder."
On the morning of November 27th, The Taj website read, "We will rebuild every inch that has been damaged in this attack, and bring back to its full glory." Hostages spoke of unstinting courtesy, courage and calm of the Taj staff, sometimes to the very peril of their own lives. These are standards Indians across the board should strive for, whether in public or private enterprise. The Taj, standing for 105 long years as a testament to the indomitable character of the city of Bombay, must have rankled them awfully hard. Let it stand for another 105.