I have been intending to write this for a while. But right now, it has never been more apparent.

The New York Times decides my day.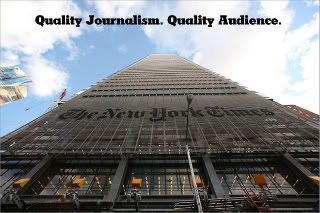 Let's scan through my last two days in the city. I saw
Take Out
, what Nathan Lee in the Times called the most "freshest, most sympathetic movie about making your way in Manhattan."
I got back home, read David Brooke's
latest column
The Great Seduction. I made a vow to be more prudent with money.
Then I thought my financial behavior was a plague of my generation, as my minds traced back to a New York Times take on
Young New Yorkers Make a Brand New Start of it, on the cheap.
Then came Friedman's
latest column
, and it made me feel good about Obama, about America. I was put too bed.
The New York Times put me too bed.
I got up this morning, missed class and as I clumsily sat on my bed, scratching my eyes and balls, I got back to where I left of.
www.nytimes.com/pages/movies
I decided I really could not afford to see
The Grocer's Son
, a surprise hit in France. I had a crew call for a shoot at two. And anyways, The Times introduction of me and French cinema has ended up putting me in the uncomfortable position of Film School at Tisch.
But I needed culture. I took the subway to the
Gagosian Gallery
for Roy Lichtenstein's exhibition of pop art depicting women.
I finished my shoot. And then I passed the Wine Store on Broadway. Armed with a bookmark of
Wine of the Times
on my iPhone by Eric Asimov in the Times, I brought a bottle of Graffigna San Juan 2004.
Back at my Financial District apartment, I uncorked the bottle and got back to my computer. I opened the T magazine that had a
profile
of Kerala, my plantation home back in India. I don't care if the Financial District has had a
resurgence
and my summer address is the iconic 200 Water Street, I needed the Subcontinent.
I think I screwed up though with the New York Times. Not just because Morgan Stanley thinks so.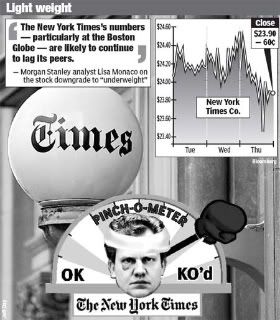 I listened too much to Jeffrey Marcus, editor of
Goal!
, the soccer blog in the sports section of the Times, almost believing that Euro 2008 in the city could substitute Oysters by the seaport. I asked a girl for
a soccer game in the city
(Germany Vs Croatia) at Nevada Smith's. Next thing I know she was busy with work.
I realized the New York Times will print everything that is fit to print. And if you interpret a soccer game with you feeling good with the Hoegaarten's as a place to take a girl out, you are stupid. Not the Times.
Missing home, I called Kenny, editor of
The Dumb Jock
and in Los Angeles for the summer, and we talked The Times some more.
Then I thought why just talk the Times.
Write the Times
. And hence, this blog